"Celé sídlisko už čaká na sneh. Už niekoľko dní je sneženie cítiť vo vzduchu, a keď ťahajú rodičia svoje deti domov zo školy, všetky sa pozerajú do neba, kedy začne padať. Aj v škole pozerám z okna a myslím na sane, ktoré čakajú v zamknutej pivnici. Keď sa poobede vrátim, idem ich do kočikárne skontrolovať. V kočikárni je plno rárohov: bicykle, kvetináče, detská ohrádka, lopatky do piesku a tam vzadu sa skrývajú aj moje sane."
Čakanie na sneh bude moja tretia kniha. Druhá pre deti. Teda viacmenej pre deti. Podobne ako moje predošlé dve veci čert Kolofón a Veľký román, vždy sa snažím do nich dostať viacero rovín pre rôzne vekové kategórie. Dúfam, že sa mi to podarilo aj v tomto prípade.
Rukopis tejto detskej knihy vznikol približne pred tromi rokmi a to dosť iným spôsobom ako predošlé diela. Tie som mal pomerne presne premyslené od začiatku do konca čo sa príbehu týka. Prvý nástrel Čakania na sneh som napísal v podstate za jednu noc na vlne momentálnej inšpirácie, keď ma pochytila túžba napísať "knihu o snehu".
Ako veľký snehofil v reálnom živote, ale aj čo sa literatúry týka, som často uvažoval nad tým, že raz niečo o snehu napíšem. Čakanie na sneh je tak prvým pokusom vyjadriť môj vzťah k tomuto vesmírnemu elementu. A čo je najdôležitejšie, vzhľadom na spôsob vzniku diela, ide o moje prvú "lyrickú prózu".
Vo svojej doterajšej tvorbe som sa lyrickým tónom skôr vyhýbal, ak som si z nich priamo neuťahoval. Dlho som to vo svojej súkromnej polemike odmietal. Uvažoval som, či niečo také vôbec písať, či to nie je veľmi tradicionalistické a nostalgické. Ale zariekaného chleba sa najviac naješ. A je tu moja prvá vec, čo nemá kauzálne uzatvorenú dramaturgickú štruktúru, nenaskakujú vám pri jej čítaní do hlavy dramatické scény, ale zameriava sa viac na prežívanie hrdinu, opis pocitov a atmosféry minimalistického deja.
Úryvok z textu vyšiel približne pred rokom v rámci spolupráce s kultovým časopisom Slniečko, kam som rukopis poslal. Nemal som veľké oči, či ho vôbec zaradia, ale podarilo sa. Čo bolo ešte lepšie, Slniečko k textu najalo aj ilustrátorku. Keď som to videl v časopise s obrázkami, tak som si povedal, prečo to neskúsiť vydať ako knihu. Autorku ilustrácii Martu Matus som vtedy ešte osobne nepoznal, nabral som však odvahu a oslovil ju, či do toho spolu nepôjdeme.
Marta súhlasila. Bude spoluautorkou mojej tretej knihy a keďže už sú hotové takmer všetky ilustrácie ku knihe, môžem vám povedať, že už len kvôli ním sa vám oplatí knihu zadovážiť si. Marta je čerstvá absolventka ateliéru ilustrácie na VŠVU a v portfóliu už má vzhľadom na svoju krátku kariéru pekný štós titulov, pre E.J. Publishing ilustrovala detské knihy To sme my a Grip, had ktorý chcel mať nohy, pre Albatros Marcipán má veľký plán. Kreslí nielen pre Slniečko ale aj pre ďalší detský časopis Bublina. Okrem Čakania na sneh ilustruje aj môj ďalší text pre Slniečko Krpci z tretieho vchodu, ale to už je iný príbeh.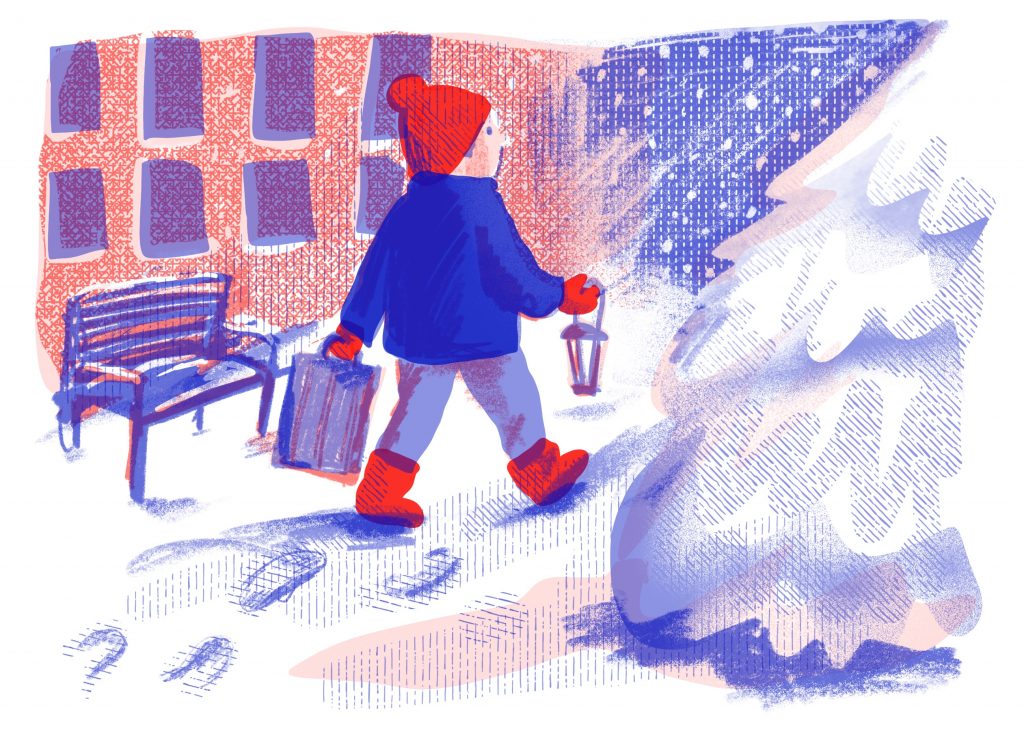 Graficky sa na príprave knihy bude podieľať Peter Gála. Zakladateľ Asociácie slovenských ilustrátorov, špecialista na knižnú grafiku má na konte hromadu nádherných kníh pre vydavateľstvo Artforum, ale aj mnohé ďalšie. Bola fuška nájsť v jeho nabitom programe okno, aby s nami na Čakaní na sneh pracoval. Nakoniec som ho presvedčil, a môžete sa teda tešiť na oku lahodiaci knižný artefakt.
Dej príbehu je zasadený do deväťdesiatych rokov, samozrejme preto, že som v tej dobe vyrastal a práve s ňou sa mi spájajú moje spomienky na detské zimné radovánky. Ambíciou je súčasným deťom opísať začiatok zimy ako sme ju prežívali v analógovej dobe, takpovediac vo svete televízorov bez ovládača, kde mali sídliskové outdoorové aktivity svoje špeciálne čaro. Mojou snahou bolo bez prílišnej nostalgie a moralizovania zachytiť prežívanie magického momentu začiatku zimy očami sídliskového decka. Výsledkom budú dúfam podnetné diskusie medzi rodičmi a ich deťmi nad čítaním mojej tretej knihy.
Aktuálne pracujeme na dokončení publikácie a ak všetko pôjde podľa našich predstáv, knihu by sme mali pokrstiť v priebehu novembra. Čakanie na sneh bude zároveň mojou prvou knihou, ktorú vydávam celkom vo vlastnej réžii. A kniha vzniká vďaka finančnej podpore Fondu na podporu umenia.